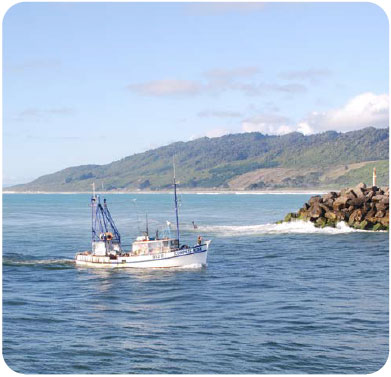 New for 2021 – New Zealand fisheries management is recognised as one of the most sustainable in the world and the fishing industry on the West Coast is a thriving and supportive industry.
Job opportunities in commercial fishing are vast and our West Coast fishing companies are looking for eager young people to recruit and develop for long term, rewarding jobs.
Our West Coast Commercial Fishing programme will teach you the skills you need to enter a career on a commercial fishing boat. You will learn shore based skills to teach you what it takes to become a successful fishing operator. There are many career pathways you can take from here – maybe you will end up as a skipper of your own boat crew, or move into a land based role in seafood retail, sales or management?
Key details
| | |
| --- | --- |
| Credits: | Between 15 and 22 credits |
| Duration: | This is a 1 year programme |
| Timetable: | 1 week block course in February then, 9am to 3pm Fridays |
| Starts: | February 2021 |
| Ends: | November 2021 |
| Provider | Westport Deep Sea Fishing School & North Beach Fishing Ltd |
What you learn:
Vital industry health and safety
Essential communication skills including understanding fishing terminologies
How to follow important instructions on board a commercial fishing vessel
Skills for fixing fishing nets
Equipment repair and maintenance
Loading, unloading and fish stacking skills
Employment options:
Commercial Fishing Deck hand leading to supervisory and skipper jobs
Fish processing roles
Seafood Retail or sales
Further study options:
Certificate in Commercial Fishing (Level 3)
Certificate in Seafood Processing (Level 3)
Commercial Skipper Licence
New Zealand Certificate in Fishing Vessel Crewing (Level 3)
New Zealand Certificate in Domestic Maritime Operations (Level 4)
Check out the 2021 Programme PDF Guide here!
Talk to your school Trades Academy co-ordinator or careers advisor