Student Profiles
Luka Didham
Year 12, Reefton Area School
COMPUTER PROGRAMMING AND WEB DESIGN – YEAR 2
"I joined Trades because I am interested in computing and wanted to expand my knowledge and maybe make a career out of computing.
I enjoy web design and the arty side of technology so I'd like to pursue a career along those lines when I finish school.
Some of the skills I have learned whilst at Trades include computer programming, web design and hardware.
I enjoy coming to trades to learn new skills about computers that I did not know before, expanding my knowledge.
Next year I plan to return to school to do Year 13.
Ryan Cole
Year 11, Reefton Area School
BUILDING AND CONSTRUCTION – YEAR 1
I joined the West Coast Trades Academy Building and Construction course because I wanted to learn the fundamentals of construction and work towards becoming an apprentice carpenter.
The equipment in the workshop at Tai Poutini Polytech is amazing. I've learnt how to use all the tools and have made more diverse things like furniture.
Next year I'm looking forward to doing my second year of building at trades and continuing with school.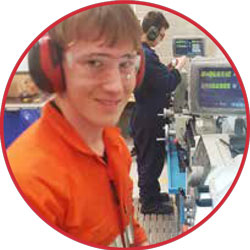 Hamish Coates
Year 12, Greymouth High School
MECHANICAL ENGINEERING AND CAD DESIGN – YEAR 2
This is my second year of studying mechanical engineering through the West Coast Trades Academy.
By committing to the second year of the course, my machine work has improved, especially on the lathe.
I have been making tools from scratch – so far I've made a hammer and a spring loaded centre punch.
My options for next year are to study engineering full time at Tai Poutini polytech or to stay at school to complete year 13 and NCEA Level 3.
Once I go to work I would like to be a trade qualified fitter turner or welder. This course has given me the skills to be more ready for work.
Check out the 2018 Programme PDF Guide here!
Talk to your school Trades Academy co-ordinator or careers advisor