About us
The West Coast Trades Academy (WCTA) is a partnership between all of the West Coast high schools and area schools and tertiary institutions. Greymouth High School coordinates the Academy, and Tai Poutini Polytechnic (TPP), Whenua Iti Outdoors (WIO) and Nelson Marlborough Institute of Technology (NMIT) are the Tertiary Partners for WCTA.
Trades academies are part of the Government's youth initiatives. They focus on providing more choices for young New Zealanders and giving them greater opportunities to develop their knowledge, skills and talents through trades and technology programmes that are jointly provided by schools and tertiary education organisations.
Benefits of the Trades Academy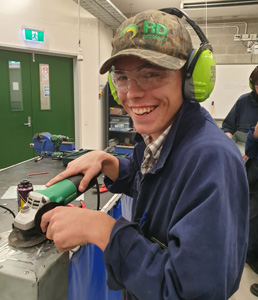 Start training for a career while studying at school
No fees
Keep up school friendships and continue with core subjects and extra-curricular activities while at the Trades Academy
Gain workplace skills, develop independence and responsibility for your learning, self-esteem and communication skills
Be ready for work with workplace skills, training, NCEA Level 2 & 3 and a vocational pathways Award.
Additional expenses such as transport will be covered by the Trades Academy
Individual learning plans will ensure your achievement is monitored by your school and the Trades Academy
The Trades Academy's manager and school co-ordinators are on-hand to support you
Take a look at what students are saying about the Trades Academy
Student Eligibility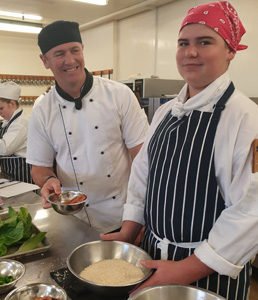 The trades academy is open to year 11, 12 and 13 students at partner schools. Students will select the Trades Academy as part of their NCEA study and timetable options at school.
Trades Academy students must make  a two-year (minimum) commitment to the achievement of NCEA Level 2 and an Industry National Certificate. Students will also miss some ordinary school classes and may need to commit extra time to keep up with their learning and achievement in other subject areas.
Schools are responsible for enrolling and recommending students for the trades academy.  Each school will have a coordinator (or contact person) responsible for trades academy students.
How it works
Fees, transport and expenses
There are no fees for the Trades Academy.
Transport costs to bring students to the open day will also be covered.
Student care
While at school students will be under the usual pastoral care provisions in their school's policies. When attending part of their course at a Tertiary Education Provider, another school or in a workplace, students will need to comply with the code of behaviour and health and safety requirements of the provider delivering that part of the programme.
Check out the 2020 Programme PDF Guide here!
Talk to your school Trades Academy co-ordinator or careers advisor